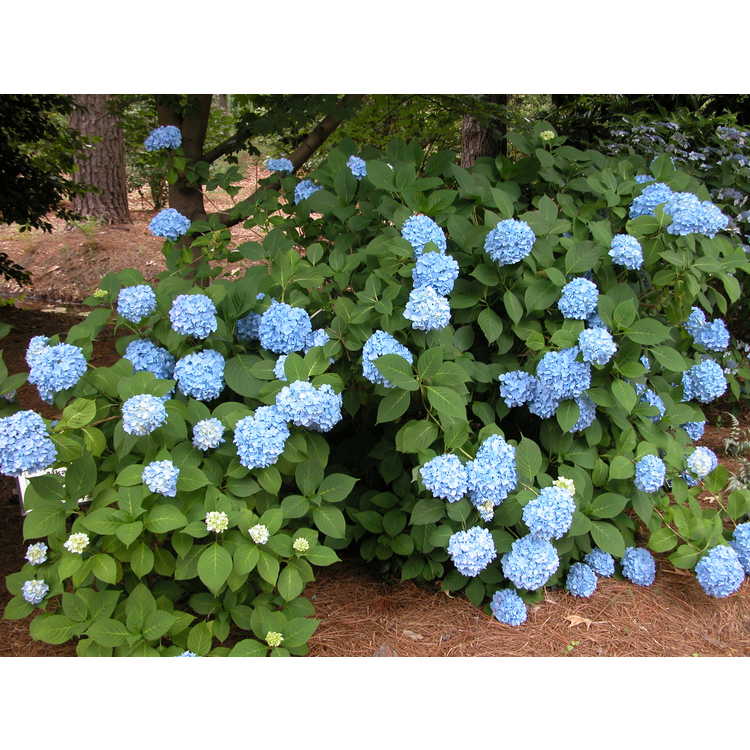 Nikko Blue Hydrangea
Regular price $12.00 Sale
Hydrangea macrophylla 'Nikko Blue'
A vigorous growing shrub with large rounded deep blue flowers (in acidic soil) blooming all summer on current season's growth. Grow in acidic soils for best blue color. Flower heads can be pink if the soil Ph is on the alkaline side.
BEFORE PLANTING: Keep in mind how big the shrub will be at maturity. Space your shrub away from your home a little over 1/2 the spread length. For instance: if your mature spread is 6' then plant it (at least) 4' from the base of your home.
*Deer Resistant*
 PRUNING HYDRANGEA MACROPHYLLA:
Bigleaf hydrangeas set their flower buds at the ends of the upright or lateral branches, during late summer to early fall. Pruning Bigleaf hydrangea in the spring or even late fall, after the buds have been set, will remove the flower buds and any chance of getting flowers that season. 
Bigleaf hydrangea should be pruned as soon as the flowers have faded. You should begin to see new growth coming in from the base of the plant, about this time. To keep the plant vigorous, selectively prune out the dead and weaker stems, both old and new. Don't prune out all the old wood, since this is what will keep flowering as the new growth matures.
Bigleaf hydrangeas are the variety most susceptible to winter bud injury.
Photo courtesy of Toms Creek Nursery in Denton, NC
Ornamental Characteristics
Category
Flowering Shrub
Foliage Type
Deciduous
Height
4' - 6'
Spread
4' - 8'
Shape
Mounding
Primary Foliage Color
Green
Seasonal Foliage Color
Green
Flowering Season
Summer
Flower Color
Blue or Pink (depending on the acidity of the soil)
Berries

N/A

Environmental Characteristics
Growth Rate
Fast
Sun Preferences
Shade to Partial Shade
Water Preferences
Moist (not wet): Ensure planting area provides adequate drainage. 
Hardy Zones
5 - 9