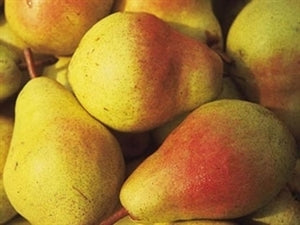 Moonglow Pear
Regular price $36.00 Sale
Pyrus malus 'Moonglow'
Extra large pear that is yellow with a slight red blush. Very smooth flesh, juicy and excellent mild flavour. Great for fresh eating, cooking or canning.
Good tolerance to fire blight. Ripens mid to late August. Big, bold, blushed fruit. This beautiful, Bartlett-type pear is soft and juicy without being mushy.
The tree is disease-resistant to fire blight and will bear fruit for years.
A strong pollinator for other pear varieties. Ripens in mid August.
** Requires Pollinator ** It will take two pears to bear fruit. Bartlett is a good choice for pollination with the Moonglow.
The Kieffer pear will pollinate a Moonglow pear but a Moonglow pear will not pollinate a Kieffer pear.
Hardy Zones: 4-8
Photo courtesy of Bottoms Nursery
in
 Concord, GA
Ornamental Characteristics
Type
Fruit Tree
Foliage
Deciduous
Height
15' - 25'
Spread
10' - 20'
Shape
Upright
Primary Foliage Color
Green
Seasonal Foliage Color
Yellow before shedding leaves for Winter
Flowering Season
Spring
Flower Color
White
Fruit
Extra large pear (juicy & delicious)
Environmental Characteristics
Growth Rate
Moderate
Sun Preferences
Full Sun
Water Preferences
Average: 

Ensure planting area provides adequate drainage