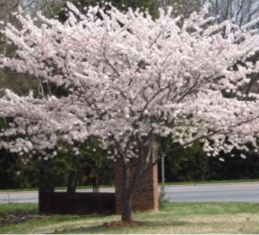 Yoshino Cherry
Regular price $25.00 Sale
Prunus x yedonensis
The Yoshino Cherry--a vigorous-growing, small, ornamental tree-- is what brightens the D.C. Tidal Basin, among other places, every spring. Its habit is upright and spreading creating a graceful open pattern.
Its flowers are single, light-pink to white, and slightly fragrant. This tree needs good drainage, so plant on a slight slope, or place gravel or washed stone in bottom of hole.
Leave top of root ball about 4-6" above the grade. Add mulch to cover.   
*Deer May Rub Antlers on Bark*
Photo courtesy of Our Growing Friends at Casey Nursery in Goldsboro, NC
Ornamental Characteristics
Category
Flowering, Ornamental Tree
Foliage Type
Deciduous
Height
30' - 50'
Spread
20' +
Shape
Upright & Spreading
Primary Foliage Color
Green
Seasonal Foliage Color
Green
Flowering Season
Early Spring
Flower Color
White to Light Pink
Fruit
N/A (Ornamental)
Environmental Characteristics
Growth Rate
Moderate
Sun Preferences
Sun to Partial Shade
Water Preferences
Average: Ensure planting area provide adequate drainage
Zone 7