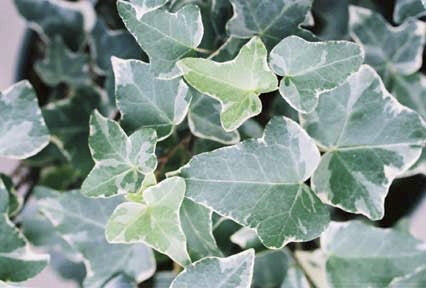 Glacier Variegated English Ivy
Hedera helix 'Glacier'
Foliage bears a rich, emerald green coloring with high contrast, creamy white margins.
A fast growing vine that roots as it travels, or climbs with clinging rootlets onto any vertical surface.                                                                  
* NOT RECOMMENDED for planting by/near a house side *
Excellent for slope coverage and to fill in expansive areas. 
*Deer May Browse*                
 Photo courtesy of Toms Creek Nursery in Denton, NC
Ornamental Characteristics
Category
Vine & Ground-cover

Foliage

Type
Evergreen
Height
1'
Spread
15'
Shape
Ground-cover
Primary

Foliage

Color
Olive Green w/White edges
Seasonal

Foliage

Color

Olive Green w/White edges

Flower Color
inconspicuous (Prized for Foliage)
Environmental Characteristics
Growth Rate
Fast
Sun Preferences
Full Shade, Semi-shade or Full Sun
Water Preferences

Average -  Moist (not wet): Ensure planting area provides adequate drainage

.

Cold Hardiness Zone
6 - 11