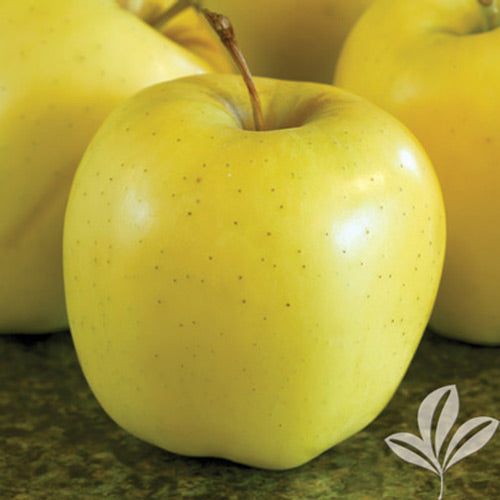 Yellow Golden Delicious (standard) Apple Tree
Regular price $36.00 Sale
Malus pumila 'Yellow Delicious' (Standard)
Yellow skin, sweet apple. The Yellow Delicious apple tree produces tasty apples that are extra juicy, crisp and sweet; without any trace of bitterness or tartness.
One of the country's most popular apple and is always a fall favorite. This large golden apple ripens late with a fine, sweet flavor that makes it great for cooking, baking, sauces, and for eating fresh.
Requires 600-700 chill hours.
Self-pollinating and a very reliable pollinator for other apple.      
*Deer May Browse*
Photo courtesy of Texas Pecan Nursery, Chandler TX.
Ornamental Characteristics
Type
Fruit Tree
Foliage
Deciduous
Height
20 - 25'
Spread
15 - 20'
Shape
Ovate
Primary Foliage Color
Green
Seasonal Foliage Color
Sheds leaves durning colder months
Flowering Season
Spring
Flower Color
Environmental Characteristics
Growth Rate
Moderate to Fast
Sun Preferences
Full Sun
Water Preferences
Average: Ensure planting area provides adequate drainage.
Cold Hardiness Zone
4 - 7