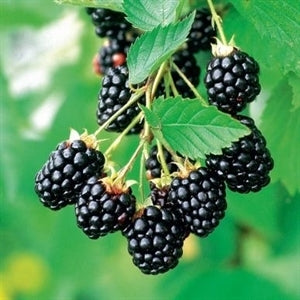 Arapaho Thornless Blackberry
Regular price $24.00 Sale
Rubus argutus 'Arapaho'
Arapaho is a thornless, self supporting, blackberry.  
Glossy & Smooth Fruit. The berries are fantastically sweet without a sour bite after-taste. What's even more appealing is that it is Self-pollinating.
This ultra-hardy bush is a good producer.
Photos courtesy of our growing friends at Bottoms Nursery in Concord, GA. Bottoms Nursery is a 2nd generation farm. 
Ornamental Characteristics
Category
Berry Producing Shrub

Foliage Type
Deciduous
Height
4' - 6'
Spread
1' - 4'
Shape
Upright
Primary Foliage Color
Green
Seasonal Foliage Color
Winter Dormant
Flowering Season
Spring
Flower Color
White
Berries
Black
Environmental Characteristics
Growth Rate
Fast
Sun Preferences
Full Sun
Water Preferences
Moist (not standing water)

: Ensure planting area provides adequate drainage

Cold Hardiness Zone
5 to 8