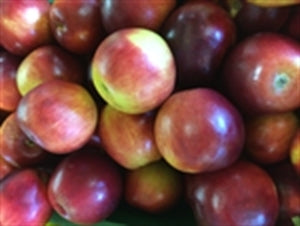 Arkansas Black Apple (semi-dwarf)
Regular price $36.00 Sale
Malus domestica 'Arkansas Black'
Medium size fruit with dark red skin almost black in color. The apple flesh is firm, white, juicy and crisp. Flavor is pleasant and sweet.
This apple is excellent for juice.
Resistant to Cedar Apple Rust. 
Heavy bearer in October to November.  800 - 900 chill hours.
Excellent pollinator.
Cross-pollinate with: Gala, Fuji, Granny Smith, Jonathan,  McIntosh, Pink Lady, Red Delicious, & WineCrisp 
 pH 6.0 - 7.0. 
Photo courtesy of Bottoms Nursery in Concord, GA

Ornamental Characteristics
Category
Fruiting Tree
Foliage Type
Deciduous
Height
12-15'

Spread

10-12'

Shape
Upright
Primary Foliage Color
Medium Green
Seasonal Foliage Color
Sheds its leaves durning colder months
Flowering Season
Spring
Flower Color
White
Fruit 
October - November 
Environmental Characteristics
Growth Rate
Moderate to Fast
Sun Preferences
Full Sun
Hardy Zones

5 - 8