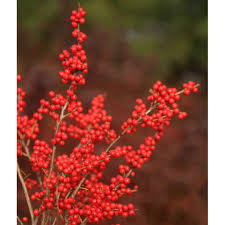 Berry Nice Winterberry Holly
Ilex verticillata 'Spriber'
The Holly is a Christmas favorite and member of the Aquifoliaceae family of trees and shrubs. The Holly has a long history of religious and holiday traditions around the globe. Ranging from red to black, the fruit of the holly ripens in the Winter and provides essential food for the birds and other wildlife. 
To produce fruit, a female and male holly are required. The female holly will have smooth and rounded leaves while male holly's have leaves that are rough-edged and spiked. The Berry Nice Winterberry is a female and known for its orange-red berries that last a long time.
Mr. Poppins is the recommended pollinator.
*Deer May Browse*
Ornamental Characteristics
Category
Shrub
Foliage Type
Deciduous
Height
6' - 8'
Spread
3' - 5'
Shape
Upright/Rounded 
Primary Foliage Color
Dark Green
Seasonal Foliage Color
Yellow
Flowering Season
Spring
Flower Color
Insignificant
Berries
Orange-red
Environmental Characteristics
Growth Rate
Moderate to Fast
Sun Preferences
Sun to Partial Shade
Water Preferences

Average; ensure planting area provides adequate drainage.

Cold Hardiness Zone
3 - 9