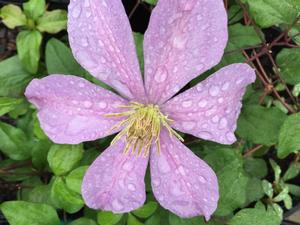 Clematis 'Comtesse de Bouchard'
Regular price $20.00 Sale
Ranunculaceae Clematis 'Comtesse de Bouchard'
Profuse Bloomer! Large (
5-6" across)
, Velvety Rose-pink Blooms w/Yellow Stamens.  
Climbing Vine: needs support. Use to cover a fence section,Lamp post, Trellis, Arbor, Mailbox, Deck or Porch Post, etc..       Long Blooming       Attracts: Hummingbirds & Butterflies
Note: Flowers on new season's growth
Clematis roots prefer to stay moist, but not in standing water. They do not perform well if they dry out. flowers on both old and new wood. (Group 2) If cut to ground or pruned fall or spring flowers will be reduced or delayed but not prevented.  
*Deer Resistant*
Photo courtesy of our growing friends at Riverbend Nursery in Riner, VA
Ornamental Characteristics
Category
Perennial, Flowering Vine
Foliage Type
Winter Dormant, Deciduous

Height

96" - 144" 'Climbing'

Space

36" - 48" 

Apart

Shape
Climbing
Primary Foliage Color
Green
Seasonal Foliage Color
Winter Dormant

Flowering Season
Summer - Autumn
Flower Color
Rosey Pink

Pollinator Friendly
Yes
Environmental Characteristics
Growth Rate
Average
Sun Preferences
Sun to Partial Shade
Water Preferences

Average: Ensure Planting Area Provides Adequate Drainage

Cold Hardiness Zone
4 - 8