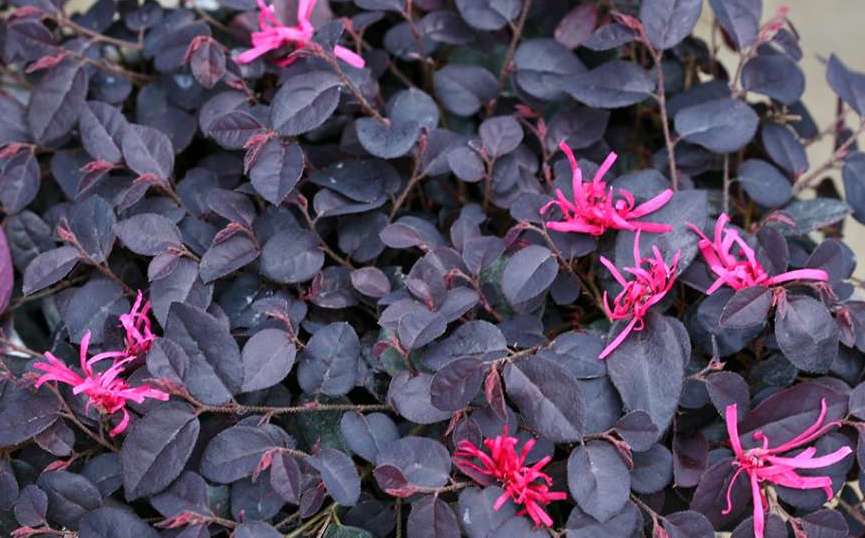 Jazz Hands (Mini) Loropetalum
Regular price $37.00 Sale
Loropetalum chinense 'Beni Hime' PP27752
As new foliage emerges its spattered with pink, white, and light green variegation and matures into a rich, vibrant, plum purple. Its electric, fringed looked flowers give a firework display of pink that will light up any setting in your landscape.
Jazz Hands®  sets the tone for a 4th of July celebration all season long.             Uses include: mass planting, screen, hedge, accent, specimen, or to bring rich color contrast in any landscape.  * This shrub really will give the neighbors something the talk about!
* Deer, Drought & Disease Resistant *                                                                Attracts: Hummingbirds, Bees & Butterflies
Water Preference: Average - Prepare planting area for adequate drainage. Poor drainage results in root rot. 
Photos courtesy of our growing friends at Proven Winners© 2019 Proven Winners, LLC. All Rights Reserved. Breeder: Yuji Sezuki, Japan
Ornamental Characteristics
Category
Flowering Shrub
Foliage Type
Evergreen
Height
12"
Spread
3'
Shape
Upright, irregularly rounded
Primary Foliage Color
Burgundy
Seasonal Foliage Color
Green, purplish bronze
Flowering Season
Spring - Autumn
Flower Color
Pink/Fuchsia (Fringe Flowers)
Environmental Characteristics
Growth Rate
Moderate
Sun Preferences
Sun - Partial Shade
Hardy Zones 7b-9