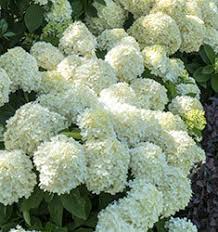 White Wedding Hydrangea
Regular price $30.00 Sale
Hydrangea paniculata White Wedding TM  PP28973
Sturdy, upright branches support large, pillow-like, white spring blooms. 
This hydrangea will tolerate FULL SUN exposure (many hydrangeas do not tolerate FULL SUN).          Fast Growth Rate.        Low Maintenance.        
Pruning: Deadhead faded flowers, cross-branches or dead stems in Late Autumn  (after it hits dormancy & drops its leaves) or in Early Spring; do not prune otherwise.   Paniculatas can be pruned into single stem 'tree form'                                                                                    
*Deer Resistant*
~ Ensure adequate water  is supplied, to your newly planted hydrangea, until the roots are established in their new home. 
Photo compliments of Flowerwood Nurseries.
Ornamental Characteristics
Category
Flowering Shrub
Foliage Type
Deciduous
Height
4-6'
Spread
3-5'
Shape
Mounding
Primary Foliage Color
Dark Green
Seasonal Foliage Color

Dark Green

Flowering Season
Summer
Flower Color
White
Showy Specimen
Yes
Environmental Characteristics
Growth Rate
Fast
Sun Preferences
Sun to Partial Shade
Water Preferences

Average - Prepare 

planting area for adequate drainage. Poor drainage results in root rot. 

Zone 4a - 9b